Nomad
A downloadable game for Windows, macOS, and Linux
*We recommend playing in a downloadable version*
You are a Nomad. A dangerous life in these times. Guard your

Caravan from enemies and safely reach the next town.
Gameplay:
Defend the Caravan from enemies, reach towns to get items, units and more gold!
Reach the end with the most amount of points possible.
Unit heal upon reaching towns, do not let them fight to their death.
Controls:

UI will only show up if units are selected!!
Units:
Select units by left clicking or click drag over them.
Units will automatically attack nearby enemies
Unit can be upgraded (Wildcard) by adding Items to their
equipment slots by dragging inventory to a single selected unit (equipment can be found by clicking the bag icon in the bottom right corner).
Start and Stop the Caravan by clicking on the Caravan Button in the bottom right corner or by pressing spacebar
Camera Movement:
Manually control using wasd and arrow keys. Zoom with mouse wheel.
Use the control key to quickly jump to the selected unit or the Caravan



By Charlie Newton and Michael Kneeshaw
Purchase
In order to download this game you must purchase it at or above the minimum price of $1 USD. You will get access to the following files:
Comments
Log in with itch.io to leave a comment.
Hi, I made a review for your game and posted it on YouTube.
Interesting little game, and pretty cool for a weekly jam. I had a lot of the same problems as others.

-I couldn't stop the caravan in time so I'd die.

-I couldn't really see the enemies well, so didn't know how well battle was going.
-Caravan would immediately leave city so I'd get killed before I could equip weapons and armor.
Lots of QoL improvements could make this game way better. Auto-equip, or equipping when purchasing, UI that includes hotkeys for quick selection/pausing, UI for enemy and troop HP.

Thanks for playing it! I love the feedback. I think we are going to clean up some of these things and post an update.
I thought that it was a pleasant experience. I really like the map. Something you could add regarding the map might be terrain advantage for your unit or unreachable montain for real ambush. Or even long trip with healing fontain and better loot something like that.
It would be cool if we could drag and drop equipment on the list of units directly.
I found that the mercenary could detect the caravan maybe a bit too far ? I think it might be better to have a safe moment to reorganise after getting the loot from a town (on the second town i always get raided directly after getting out). And why not sell unuseful loot too ?
If you want idea, I always have a bunch of them ! :)
Anyway, cool game !
I love these ideas! I wish I had done this prototype of the unit ui, so inventory and equipping would be easier.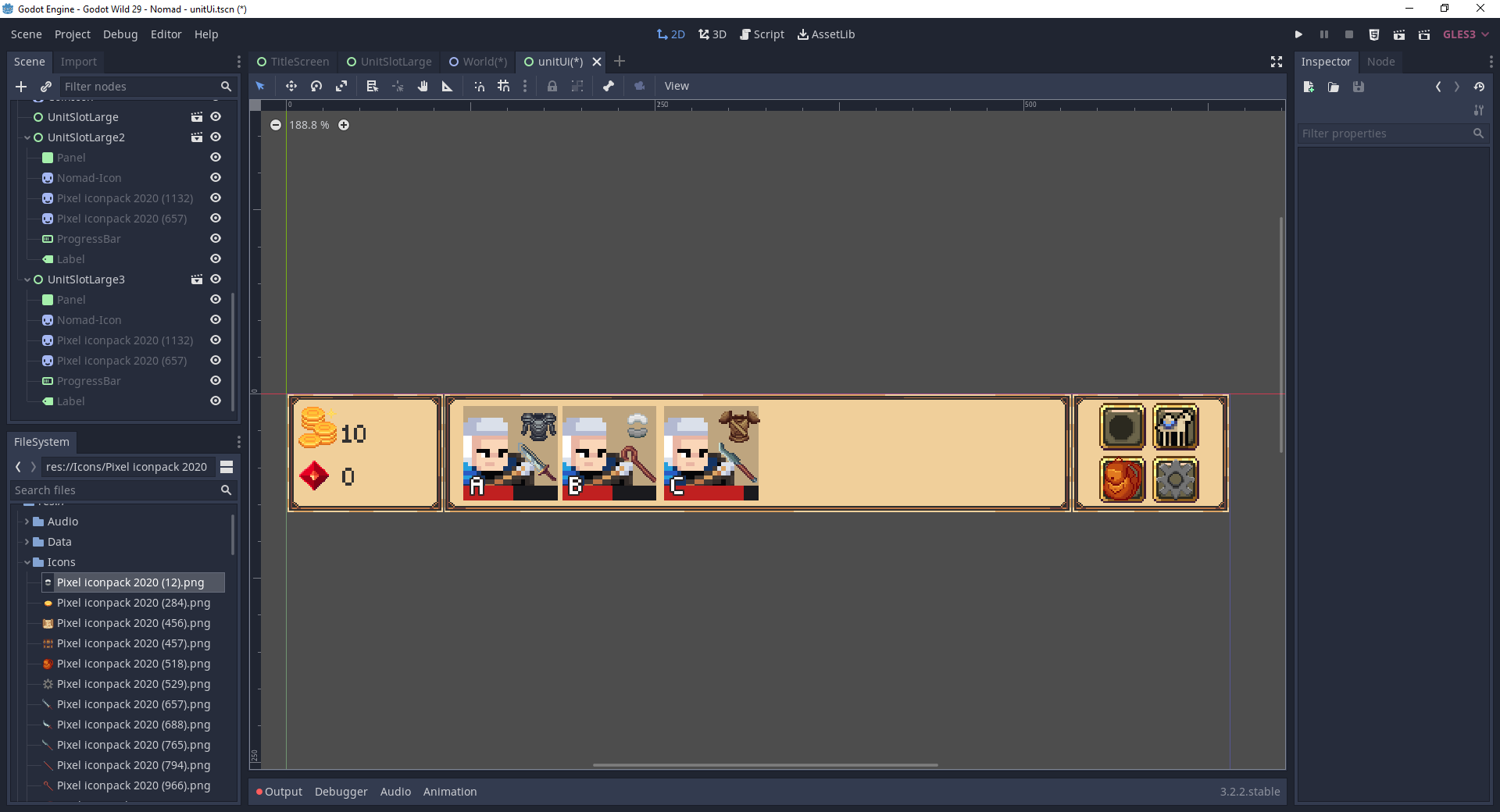 Very cool game :) At first it was a bit confusing because I bought multiple recruits, but they visually all overlapped, which made me think it was bugged.
I think it would be good if the caravan would not automatically keep moving after visiting a city (or at least have the option to turn that off). When I leave the city the first thing I try to do is stop the caravan from moving, so I can group my old and new units together, figure out the equipment etc. One time I tried to do this, but in the two seconds the camel had to move it had already drawn aggro from enemies that had spawned right outside the city.
edit: I don't see music credits. Who was it made by?

Awesome :) I thought it was good

Nice entry ! I really like RTS games, good job ! Some already mentionned it, but I only had some trouble with the selection. It seems hard to implement though !
As a little quality of life change, I had trouble finding the units without weapon for example. The fact that you can see all the units in the bottom bar, and select one was super useful for this, maybe adding little icons to say 'this one got a weapon/armor already' could be cool !
Again nice first game ! Congrats !

Thank you! I had been talking about this, but had to scrap a more complex multiunit menu.
I really enjoyed this game! It was great!
The game was a bit buggy but I still had a good time. I like that the loot and enemies seem randomized, I think it's a good concept for making the game a bit more dynamic.

Some of the issues I had:
It was a bit hard to select individual units. (It seems the hit box for units is too big?)
Unit formations don't seem to work.
It's a bit hard to tell what's going on in combat. (HP bars for each enemy are hard to see, units are all clumped together)
Attempting a repeat playthrough breaks the game. The 1st restart makes most enemies disappear. The 2nd restart bugs the items.
Despite the issues, this is a pretty good attempt for a first game! (Better than anything I could ever make!) If anything, it just needs a bit of refinement in some areas! Build on the concept a bit more and it could be a pretty great time. Keep up the good work!
Thank you for the feedback!! The selection system was a really big hurdle and I wish we had time to totally redo it. I think handling inputs is an overlooked difficulty in games look this.
Great Video. I made some more improvements from comments you made!